Chakra Jewellery helps you to balance and strengthen your mind, spirit and body energy. 
Our body's chakras are focal points that organize energy for use. Yogis have worked with the body's chakra system for several years. They have extensively explored this system by mapping and locating the most appropriate herbs, gemstones, sounds, images to optimize each chakra's energy. 
Photo by Alexey Demidov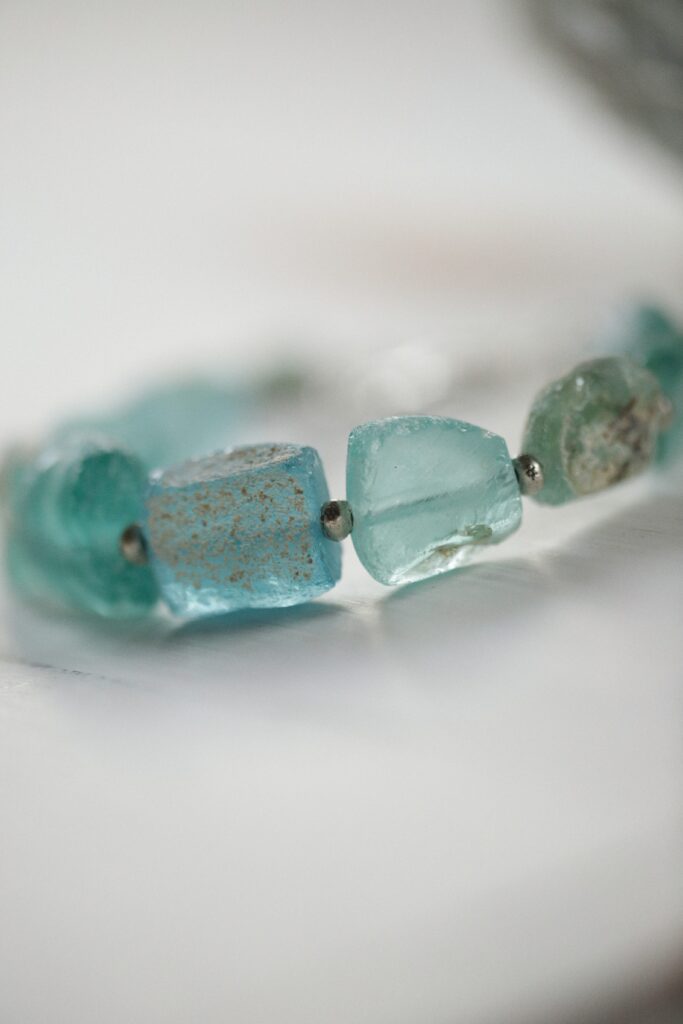 The chakras are energy vortexes in our body through which various aspects of universal energy are 'stepped down' for specific uses. While there are many kinds of chakras in our body, the seven major ones are – the crown, third eye, throat, heart, solar plexus, sacral and base. When you want to clear and stabilize your chakras, wearing a piece of gemstone jewellery associated with the chakra of interest is an excellent way to proceed. This is why we have focussed on providing you with Chakra Jewellery that helps in staying centered and balanced. 
The chakras are divided into two areas of energy, connected and balanced by the heart chakra. The upper three chakras take care of mental and spiritual functions and the lower three chakras take care of emotional and physical functions. 
Chakra Jewellery for Crown Chakra

– The crown chakra connects us to universal knowledge. The crown chakra provides Satchitananda (meaning truth, being and bliss). Chakra jewellery for crown chakra focuses on clear quartz, white howalite and white onyx. The chakra jewellery helps you to calm down and open up and experience your real self. Just as all colours of spectrum unite in colourless light, the highest chakra unites in itself all energies of the lower center's.

Chakra Jewellery for Third eye Chakra

– It includes amethyst, rainbow fluorite and lapis lazuli. The third helps in developing wisdom and orders mental functions. It helps in building your intuitive knowledge which aids in taking important decisions. It helps to reveal the divine power within and also reflects the divinity within others. It can help to destroy the dark past and create a golden future. It builds your intellectual capacity, creates new realities and dissolves old ones at the physical level.  

Chakra Jewellery for the Throat Chakra

– It includes blue lace agate, sodalite and aquamarine. Throat cancer permits us to communicate with spirit and other humans. Most singers, artists and writers have active throat cancers. Wearing chakra jewellery can provide you calmness, serenity and purity. It also helps in finding your individual expression such as expressing your feelings, thoughts etc. It makes one youthful and a good teacher of spiritual science. You can gain a good melodious voice and have a good command over your speech. 

Chakra Jewellery for Heart Chakra

–  It includes rose quartz, rhodonite and aventurine. The heart chakra is the pivotal point between the mental and emotional. This chakra offers love and oneness for all. If this chakra is open, all other chakras align with it. Wearing chakra jewellery can make you feel perpetually happy because of which you have no worries or concerns about worldly pleasures, honors and humiliations. You can live in harmony with your internal and external world. It fills you with love, faith, devotion and duty. It inspires you to live in peace. 

Chakra Jewellery for Solar Plexus Chakra

– It includes citrine, tiger eye, yellow calcite and honey jasper. The solar plexus deals with self-image and our sense of joy. It helps you to conquer sorrow and suffering. Wearing chakra jewellery can help to experience inner peace and also aids in achieving inner harmony with self, you will learn to respect your feelings and accept yourself completely. It helps to experience positive vibrations and you will see that your wishes will also be fulfilled spontaneously. 

Chakra Jewellery for Sacral Chakra –

It includes Carnelian and Orange Agate. The sacral chakra is responsible for maintaining your good relation with others and with your community. Wearing chakra jewel will allow the natural flow of life as well as your feelings. You will experience the creative life energy flowing through your body, soul and mind. You will feel emotionally gratified for everything in your life. It also helps in encouraging primal feelings, sensuality, creativity, awe and enthusiasm. 

Chakra Jewellery for Base Chakra –

It includes Hematite, Black Onyx, Black Tourmaline, Garnet and Red Jasper. The Base Chakra helps in maintaining good relations with the world and the universe. Wearing chakra jewel, you will experience the spiritual forces in your body and you will gain the ability to work lovingly on a physical plane. It helps to cultivate primal vital energy, the power to succeed, courage, patience and security. 
So if you are looking for chakra jewellery for staying centered and balanced head onto Alakik‌ ‌Universal‌ ‌Exports‌ ‌'s website and find the best chakra Products well suited for you.