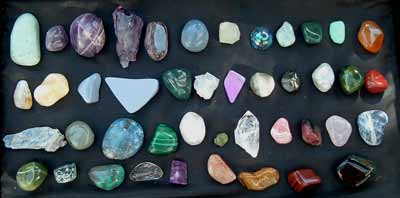 Precious and semi-precious stones have their own share of importance from that era when spiritual, physical as well as emotional healing had no signs of existence. These gem stones are actually the healing stones which when used under the guidance of a professional can prove out to be the best treatments of all.
This ancient therapy of curing the diseases is very well acknowledged across the globe even today. Focusing on the ancient stories of these healing stones, it has been known that these stones were not only used for health purpose but even used in powder form to color clothing and textiles. In addition, some of these common crystals were also painted on the skin for certain religious ceremonies held at that point of time. Nowadays, you can get such varied crystals from one of the premium manufacturers – Alakik‌ ‌Universal‌ ‌Exports‌ ‌.
People from ancient age till today have evolved a strong belief of these healing stones as the positive results of using it apparently gave them a reason to believe about its authenticity as a whole. These crystals or chakras that are available at Universal Exports have varied attributes and gradually people noticed and identified the difference amongst them that helped in curing different diseases.
According to the birth-month of people, the gems have been grouped and categorized accordingly. Depending on that, birthstone jewelry is made as per the related stone of that particular month. Let's throw some light on some of the stones that are used even today for healing purpose:
Actinolite – it heals physical body, assists the elimination of toxins through liver and kidneys, relieves stress as this stone is the rich connection to divine mind.
Adamite – this healing stone helps in stimulating your creativity, encourages living a happier life and also relieves stress as well as depression.
Amazonite – it aids in communicating truth by energizing the words you speak. It is known to be a powerful healing stone to relieve from electromagnetic negativity released from microwaves or cell phones.
Axinite – it is a stone that brings earth energy into one's own body. People who have problem with feet and legs must resort to this stone for healing purpose.
Likewise, there are hundreds of such stones available at Universal Exports that have varied healing qualities. With such a wide range of chakras as well as their healing qualities, they have attained a great level trust amongst the people which makes them use it for various purposes in day-to-day lives.
Hence, considering it in today's time, these gemstones have even become a delightful expression to give as well as receive them in form of gifts. Gifting such crystals is a great way to render that emotion of care and that you really expect well-being of the counterpart. One can resort to Universal Exports to gratify this emotion at its best.
Catering to these requirements of today's generation, Universal Exports makes sure to provide all such one-to-one needs and demands of the people. One of the biggest gemstone providers, Universal Exports is known to stand concrete at the customer's requirements by enhancing their capabilities to meet the required demands within a stipulated period of time.
For more visit our website: Alakik‌ ‌Universal‌ ‌Exports‌ ‌