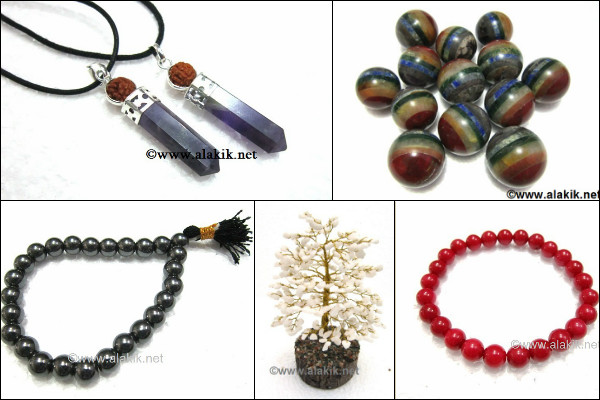 There goes a saying: Diamonds are a girl's best friend! But the truth is jewelry itself is a girl's best friend. And as the history says, shopping is in their blood, the fairer sex tend to shop often to curb their cravings. Gone are the days when they chose gold over precious stones. Now, the current trend has highly laid stress on the colorful gemstones as it has become the most demanded jewelry amongst women.
Gemstones are adorned by women in many ways like necklaces, neck pieces, Gemstones bracelets, earrings, finger rings and so on! Hence, with constant rise in demand of them, the jewelry makers have come up with exotic designs to woo the public and satisfy their cravings. But, there is yet another use of these gemstones which even has a popular demand right from decades. This demand for gem stone jewelry is not for fashion but to heal the problems of one's life. Yes, it's true that the gems have the quality to relieve respective problems from people's lives. Every gem has its own peculiar quality for which it is known to deliver perfect long time solutions.
If you are one of those looking for gemstone jewelry to remove your problem from roots, first of all, it is advisable to determine your problem and the stone that has the attribute of healing your problem. Once you are done with this, resort to the one stop Wholesaler of gemstones – Alakik‌ ‌Universal‌ ‌Exports‌ ‌.
Universal exports are known as a wholesale gemstone provider based in India and caters to demands of people worldwide.  Availability of every type of stones under one roof, Universal Exports has earned great recognition worldwide by catering to the demands in every possible way. As said earlier, people use gemstones in varied forms and hence if they intend to get such wholesale gemstone bracelets or wholesale gemstone pendants, all they need is to figure out the stone that will bring their problem to an end and later order the required gemstone pendant or bracelet from Universal Exports.
Catering to every demand of the customers, there are valid reasons for which Universal Exports have gained recognition and is considered to be the one stop destination for gemstones. Moreover, it supplies all over the world within stipulated period of time and double checks the delivery to the end customer.
In short, if you are a firm believer of healing stones and intend to cure your problems with the same, all you need is to resort to Universal Exports, communicate your demands to them like which gemstone and in what form you want (bracelets, pendants etc) and take a back seat until you receive your order as per the delivery date conveyed by them! And there you can go ahead with solving your problems with the respective healing stones through gem stone jewelry!
For more information visit: https://alakik.net/metaphysical-products